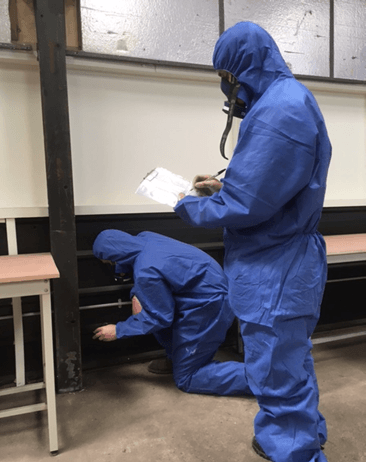 Sampling and Analysis
D J Cleaning offers an asbestos sampling and analysis service. Our highly trained operatives will visit your premises and take samples should you have any concerns regarding potential asbestos containing material. The sample then goes to a laboratory for analysis to determine whether the material taken contains asbestos or not. A datasheet is issued with the type of asbestos present or a negative reading.
Domestic
We offer asbestos removal for domestic properties such as asbestos garages, artex ceilings, floor tiles and small notifiable projects such as insulation board and pipe lagging and cellar and loft cleans.
Asbestos surveys and sampling – this is crucial for homeowners thinking of carrying out DIY projects or employing contractors to carry out improvement works.
DJ Cleaning has a small, dedicated team able to provide a more personal touch for domestic clients. We can also react quickly in emergencies and are easily contactable.
Commercial - D J Cleaning can provide a one-stop-shop for commercial clients eg.
Asbestos sampling and surveys
All types of asbestos removal
Light demolition
Environmental cleans
Surveys
Asbestos surveying is a crucial process. It is essential not only for large construction projects but for any property owner who has a duty to manage any asbestos-containing materials.
A refurbishment asbestos survey becomes necessary when a building or part of the building requires refurbishment which includes rewiring, structural changes, replacing heating systems or building extensions.
A demolition asbestos survey is undertaken when a demolition or partial demolition is required. Management surveys will allow clients to compile an asbestos register in support of their management plan.
We also take individual or bulk samples to be sent to laboratories for analysis.